We heard that there are pygmy elephants around Kinabatangan – in preparation for our Africa adventure later this year we decided to start small with elephants and go there to see this very rare (1000 – 1500 animals left) and endangered species. But will come back to the topic rare a little later…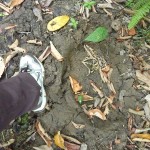 To go to the jungle, we had to take a bus several hours through palm oil plantations. Hardly any forest left, what a shame… we could really see what "loss of habitat" means for the monkeys, elephants and other animals…
The Jungle Camp we stayed in was extremely well managed, best management we saw in Malaysia so far. And super friendly staff. From a process optimization perspective there was not much we could have improved. They even had some basic visual controls *smiley winking* Apart from that, the food was also very good (too good)… And not much physical exercise because we went animal spotting by boat on the river…
The Hornbills, "cousins" of the Toucans (no, they don't belong to the same order), are really pretty birds and we saw quite a few of them (4 different species). They also suffer from the logging for the oil plantations as they require mainly primary forest. Of course we also saw many other kinds of birds…
Super cool fellows are the proboscis monkeys. Females have snub noses whereas males have noses like cucumbers. They life in groups, climb through trees very agile and from time to time do crazy base jumps from trees eventually grabbing another branch somewhen. Although they feed on leaves and fruits, they get super fat beer bellies and still climb trough the trees as gravity seems not to apply to them…
We were also lucky to spoot Orang-Utans in the wild including one old and fat male (which you do not see in Sepilok for example, as on the feedings for tourists only the juveniles and older females show up). Really cool encounter, alone this was worth going to the jungle.
We also saw giant geckos (20 cm plus), praying mantis, many monitor lizards (they are huge, including tail the ones we saw were 2,5-3m), snakes and weird insects.
On the night cruise aswell as on a jungle trek we found owls (buffy fisher owl and brown wood owl). The owl at night had extra yellow eyes… amazing. We were very lucky to find a wild cat (civit cat) but unfortunately could not spend too much time watching it as we were "parking" under a monkey sleeping tree and the monkeys – disturbed in their sleep – did lots of droppings to get rid of the intruders…
But where were the elephants? We saw the track in the muddy soil, we saw their droppings, we saw them even moving grass / reed, we heard them trumpeting, we smelled them but we did not see them. Unfortunately they were not keen enough to show up and we did not went into the reed to see them (just not recommended to do so…*smiley winking* and yet they were just a few meters away from us… *smiley sad* Well, you always need a reason to come back to a place – so this one is ours to come back to Borneo!
One encounter we had (and did not really needed to have…*smiley winking* was with leeches. We traveled the world but never came across those creatures yet… Here in Borneo they have huge tiger leeches, they sit on leaves near the ground after heavy rain waiting for someone to pass by. Fortunately, they did not like me at all (so non went on me), unfortunately they liked Thorsten a lot (6 of them made it onto his trousers, one of them even even further and started sucking). No need to panic! Yes, they are super disgusting, but fortunately they do not transmit any diseases and we put some disinfection on that spot so there was no infection. However, please keep fingers crossed, that we do not encounter any in Mulu National Park…