In a nutshell: Simple contact form for pages and posts via shortcode, sending message to defined mail address, optional spam and bot protection for messages by not-registered visitors.
Provide your users and visitors a simple and straight forward contact form. See it in action here on my Contact page.
The modern design is very clear, easy to navigate and with light-weight JS and CSS code. One big benefit is its flexible positioning in pages and posts as a shortcode.
To keep your website safe, it comes with built in spam and bot protection, by using reCaptcha for messages sent by visitors. The plugin is continuously improved and used on live websites since 2012.
Settings
On the plugin settings page you can configure all options about the contact form.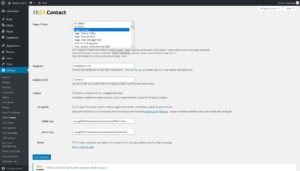 Download
Download the plugin below or install it via your WordPress admin panel.
Simply go to the "Plugins" section on the left. Click the "Add New" button on top of the page. On the right type "th23" into the "Search plugins…" field and wait for the selection to refresh. Then select "th23 Contact" and click "Install Now".
Minimum WordPress version required: 4.2
Tested up to WordPress version: 5.4
Feedback and Support
For support and feedback, please visit the FAQ and Support page or visit the support section on WP.org.
For more information about enhancements and fixes, please see the Change Log.