Where is Nazca? And why "stranded"?
Well, first of all Nazca is in the desert – miles and miles of sand, nothing else around!
Second reason, there was no seats in the bus available the day we wanted to continue…and as taking the night bus was not recommended, we decided to stay one day longer in Nazca.
So we ended up in a desert city having a lot more time than planned…
Nazca lines – huge messages from the past
Well, first of all Iris discovered, that Nazca is famous for something else, than the ancient lines in the dessert…guess what?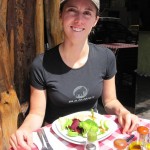 And after a nice brunch in the sun, we catched our flight over the famous Nazca lines. Some small history lesson: Well, it's not really known who produced the line and why…just imagine a ancient civilization producing pictures in the sand, they could not even see themselves, unless they knew how to fly – which is more unlikely. However they produced various surprisingly perfect pictures, symbols and lines in the sand, so lets just see their masterpieces…